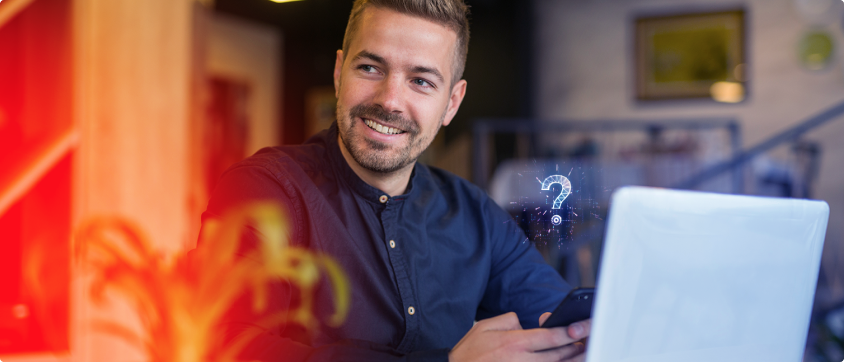 Top 5 Smart Apartment Questions for Owners & Operators

As a multifamily owner, you've undoubtedly heard or read about the growing appeal of smart apartments. You may have even been asked a few questions by property managers whose residents have asked about them. So, let's say you're interested, or at the very least intrigued—in how this whole smart apartment deal would work if you were to hypothetically give it a shot. From our experience, there are certain questions that we hear most often, and for good reason. Questions lead to answers, and in this case surprisingly simple ones. Below are the top five most commonly asked questions by owners and operators concerning smart apartments. So, without further ado, let's examine what owners want—no, need to know about smart apartments.

"How Do I Get Started?"
Naturally, before we make important decisions, we want to understand what those first steps are. Owners typically want to envision what the resident experience will look like. How will it differ from their current experience? How will it impact their day-to-day? How will it increase retention rates? After all, creating an environment that serves your residents is what keeps them a part of the community AND what steers new renters into any given property. Speaking of community, we all know that no two are the same—each and every one is unique. That being said, owners want to know how the smart apartment experience will work within the confines of theirs.
Properties are not only different in structure, but in makeup, meaning they're simply wired differently—pun intended. Owners want to know that if they're going to pull the trigger, should they do it all at once or in phases over time? And yes, the answer to that question is that it depends on the property and the budget they're working with. For instance, entry-level packages typically consist of a hub, smart lock, and smart thermostat. While that may sound like no big deal, when done right, it makes a huge difference.

"What's the ROI?"
The problem with your run-of-the-mill amenities is that they're run-of-the-mill amenities! Not to mention they're depreciable. They need to be maintained, often repaired and occasionally replaced due to overuse or abuse by reckless renters. In addition, they tend not to be universally adopted by residents. Gym equipment might be a safe enough bet, but billiards, ping pong, and foosball tables are really only used by those interested in such types of activities.
Smart amenities like keyless access, thermostats, lighting and blinds can be controlled remotely through an app, are more essential, and are therefore more universal. They're popular among residents because they can be customized and beneficial to everyone, elevating their homes.
But it's not necessarily all about the in-home experiences, as the integrated smart platform can streamline operations for management through preventative maintenance and advanced analytics. Management can make data-driven decisions that lead to increased building efficiency all across the board. Make no mistake, a fine-tuned property benefits management as much as residents who expect things to be run smoothly throughout the community.
This is to say that smart building systems allow owners to charge more for rent. Think $30-40 per month per unit. Add that up and the investment is more than worth it for everyone involved.

"To Hub or Not to Hub?"
This shouldn't be the question, because a hub serves as the universal translator across devices that otherwise speak different languages, BUT it is often debated. Hubs allow renters to control multiple devices from one application. Without a hub and an integrated solution like Episense, residents would need to download numerous apps for different devices, leading to what we like to call 'app fatigue'. It's a real thing. To hub is to streamline the process. To hub is to simplify the adoption of the smart home environment. To hub is to make adding and removing smart home devices easier and easier over time. Otherwise you're going to disrupt the resident experience every time you make a change. That's the opposite of adding value. Hub, this is the way.
"How Do I Keep My Smart Solution Current?"
An owner's biggest fear is that their decisions will be outdated before being able to realize their intended ROI. This extends to nearly every capital expenditure or additional amenity evaluated for implementation. Smart solutions break that tradition. With their continued advancement, existing devices are updated and linked to new devices. All in all, what was once deemed a more unpredictable, if not volatile, relationship among apps and devices, now is more interconnected than ever before. Simply put, owners can seamlessly adapt to the evolving landscape of smart devices without having to start from scratch.
Crisis averted, almost. Your future depends on working with an enterprise-grade provider, like yours truly, that supports all leading industry protocols and devices, rather than off-the-shelf solutions that are intended for DIY or single-family environments. A solution like this ensures you won't be tied to a single manufacturer and equates to lower risk and more flexibility in the future. All you'll need to do to keep your smart solution current is call.

"How Do We Encourage Residents to Take Advantage?"
Upon implementation owners may wonder how to go about educating their staff and residents on how to effectively use, maximize, and personalize these smart apartment features. Not everyone is tech-savvy, even if they think they are. This makes it especially important to have a great onboarding strategy for all.
Opportunities to inform your users occur at move in, renewal time, resident events, take your pick! The most important thing to remember is that enabling your users to fully realize all of these advantages provides them the tools to have a customized in-home experience. After all, the point of the deployment is to elevate the resident experience and increase efficiencies, not breed remorse through frustrations.
Not to be underestimated, this is the tone-setting activity of the implementation process. Obvious benefits aside, these educational practices demonstrate the additional value available to the user through the smart amenities at hand.
How Did We Score?
Lots of questions, a few answers, and hopefully a new outlook on the smart technology world. While those listed above may not necessarily be yours, you may have other questions that pertain to your specific assets, it's a great start to acknowledging that you can do it and your communities will thank you for it.
Owners interested in implementing smart home apartments within their multifamily community should connect with us by clicking the CTA below. Episense provides developers, owners and operators with smart home solutions and tech-driven amenities that enhance the resident experience and unlock asset value. Schedule a demo today to learn more.