The 5 Smartest Thermostats on The Market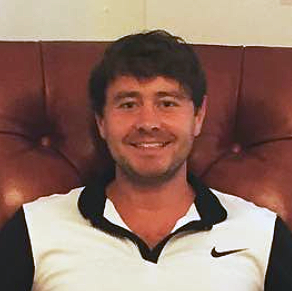 What makes a thermostat "smart"? There are a few fundamental features it must be equipped with in order to earn that label. First, it has to connect to your smartphone via an app and in most cases, another smart home device as well (e.g., Amazon Alexa). Second, it should be embedded with some type of learning technology like centralized or individual sensors that pick up on your daily habits and weekly routines and adjust the temperature accordingly. Third, it must be able to help you save on energy costs/usage. That being said, there are different ways to go about providing these three fundamental features, and there are additional features that go above and beyond the baseline for "smart". Below are Episense's top five smart thermostats based not only on our team's personal experiences with each, but on user reviews and smart device forum discussions. We did our homework.
Ecobee SmartThermostat with Voice Control
The Ecobee SmartThermostat with voice control has everything you're looking for in a smart device, let alone a thermostat. Equipped with Alex Built-in, it can make and take calls, play tunes, and be controlled by raspy, mousy, and accented voices without having to put your face right in front of it.
The key feature, however, is Smart Sensor, which is included with your Ecobee SmartThermostat. Place this accessory in your office, bedroom or any room your thermostat doesn't reside, and enjoy an added sense of comfort and control. Adjust settings and engage your Ecobee from the app or smart home assistant. And as the name of this feature suggests, it's embedded with occupancy detection to automatically manage temperature. What's equally convenient is when you're OOH, it's as if you never even left. Check and adjust temperature from your smartphone—more specifically from iOS or Android. Don't have the time or want to make adjustments manually? Not a problem. The device learns and adapts to your schedule, picking up on behaviors and routines. Getting Big Brother vibes? Don't. It's called a smart thermostat for a reason.
Not to come across like we're peddling Ecobee products (we're not, we promise) or shaming you for your energy expenditure (we're not, we promise), BUT know that this smart device will also help you save an estimated 23% on energy costs annually.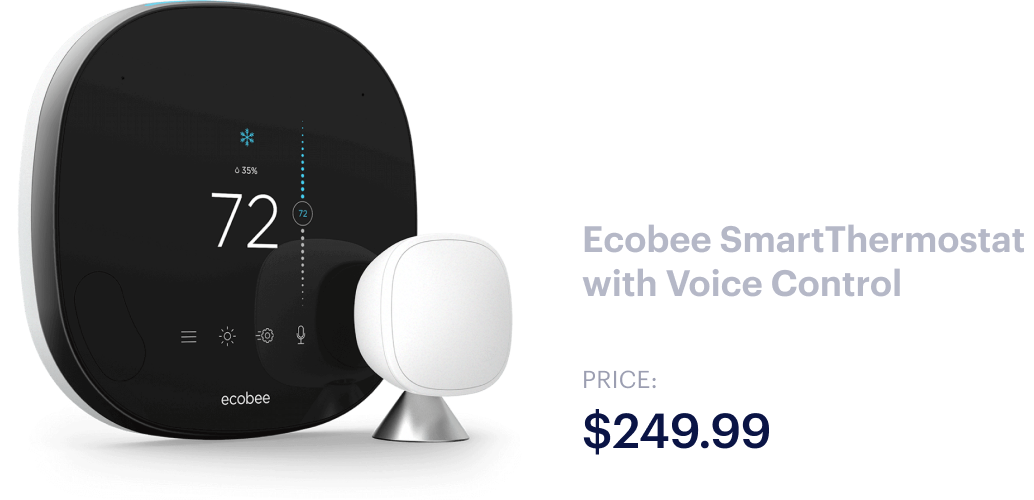 Nest Learning Thermostat
Not only is this smart thermostat aesthetically pleasing, it really does live up to its name. Yes, it has a big sharp display, along with a sleek metal ring that comes in six contemporary colors, but it also has the ability to accurately record your temperature preferences and build a schedule based on your weekly habits and behaviors. Rather do it yourself? Fret not, control freaks. You can always manually manage temperature settings in the Google Home app. Speaking of the app, it allows you to control your Nest Learning Thermostat from anywhere at any time from your smartphone.
Now let's talk about savings. Independent studies have shown that this smart device saved people an average of 10-12% on heating bills and 15% on cooling bills. They claim that in under two years the Nest Learning Thermostat can pay for itself. They've also managed to kind of gamify the device as a leaf icon appears on the display when you change the temperature in a way that helps you save. Coming full circle back to the name of the thermostat, the Leaf learns how to help you save and appears on the display at different temperatures depending on the household's behaviors. It even grants you energy rebates, rewards, and offers courtesy of your energy provider.
The only downfalls of this beautiful smart device is that the sensor (Nest Temperature Sensor) and voice control (smart speaker/display) are both sold separately, and as is the case with Nest products in general, the thermostat only plays well in a purely Google ecosystem.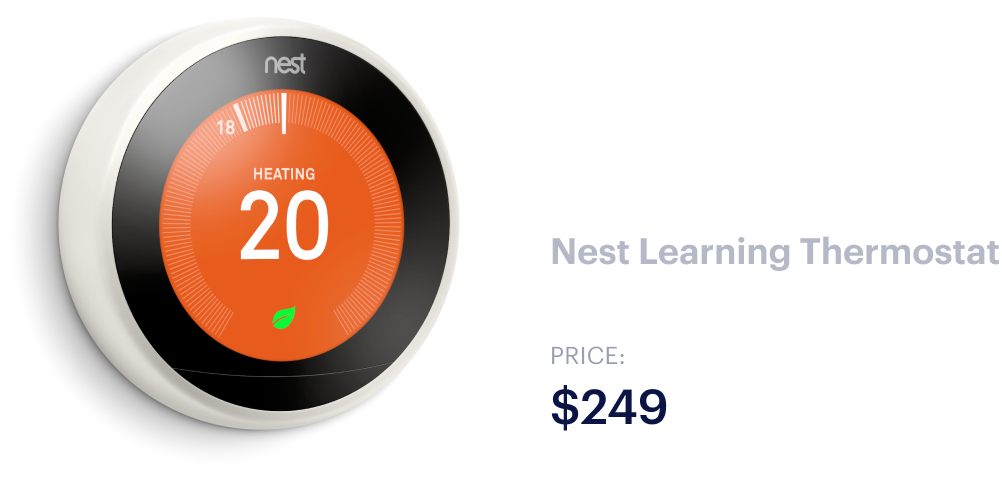 Honeywell T9 Smart Thermostat
In the thermostat world, Honeywell is a proven brand. And now, they've gotten smart. The Honeywell T9 with Smart Room Sensors is the product of decades of industry experience and a willingness to adapt to a new tech-driven landscape.
Similar to the room sensors we mentioned above, Honeywell's recognize both temperature and humidity level. The multi-room display on the thermostat's touchscreen, or in the Honeywell Home app, let's you home in on rooms according to occupancy, schedule or popularity (for lack of a better word). Want to take the temperature (so to speak) of multiple rooms? The T9 can do that by formulating an average temperature and creating a comfortable balance throughout the whole home to meet the needs of the household. Suffice to say, this smart thermostat is known for its unrivaled range.
Evening or early afternoon, late-night or early morning, the Honeywell Smart Home app tracks your coming and going, and adjusts accordingly. Save energy when out and about and come home to welcomed comfort. Speaking of moving about, the Smart Room Sensors boast advanced motion detection that can tell the difference between someone walking through a room as opposed to hanging out in there.
While the Honeywell T9 isn't as eye-catching as the previous two smart thermostats, it's highly functional, rangy, and easy to use. Another plus is that it comes with a Smart Room Sensor. A minus is that it doesn't come with voice control, although it does work with Amazon Alexa, Google Assistant, and Cortana.
Glas Smart Thermostat
Made by Johnson Controls, the Glas Smart Thermostat touts itself as "the perfect blend of form and function", and quite frankly, it's hard to disagree with that self-assessment. Let's start with form. The first thing you'll notice about it from a hardware perspective, is its translucent OLED touchscreen, allowing it to seamlessly complement any wall without being a distraction, let alone an eyesore. Guests may not even notice it's there. If it happens to catch some eyes, people will appreciate the displays' readability.
Let's move on to function, which as smart device lovers, we believe matters most. Like the vast majority of smart thermostats, it comes with an app in which you can create a temperature schedule that adheres to your weekly routine. And you can always tweak it as you see fit when plans inevitably change. You can do this from any device and with your voice.
An interesting and appealing feature of the Glas Smart Thermostat, is its ability to monitor air quality. I'm talking about relative humidity, total Volatile Organic Compounds (tVOCs), and equivalent CO2 (eCO2) levels indoors. Mad science! And for those with allergies and Asthma, know this: it reports pollen and air quality outdoors. Other air-related features include fan runtime options, smart circulation, and smart ventilation. Hey, a healthy home is a happy home!
Lastly, this smart thermostat syncs with the Google Assistant and Amazon Alexa when connected to Alexa-enabled devices (Amazon Echo, etc.). Glas may not be a big name in the game compared to the previous three smart thermostats, but with an intuitive interface across all devices, a sleek, stealth display, and health-friendly features, there's a lot to like about this product.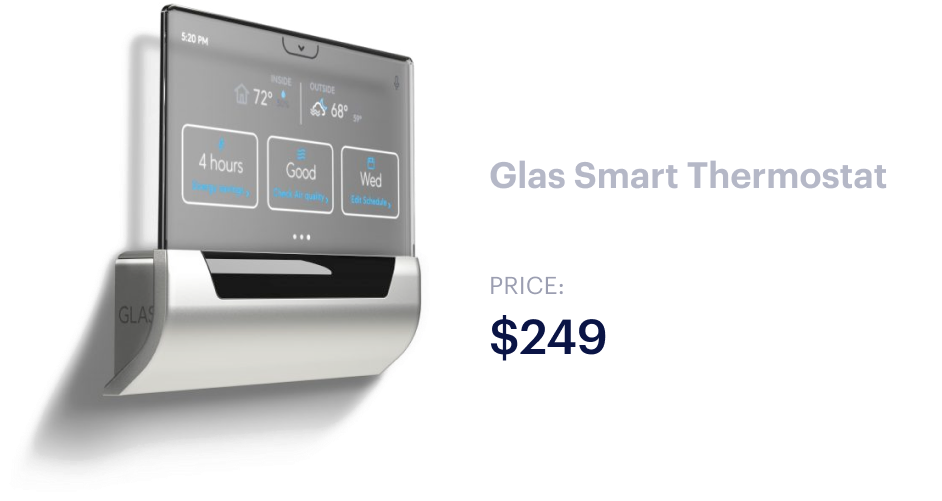 Sensi Touch Smart Thermostat ST75
The ST75 Sensi Touch is another example of a smart thermostat with a very intuitive interface. Much like the Honeywell T9, it won't wow you from an aesthetic or interactive perspective, but it's highly functional. Think of it as the everyman's/everywoman's smart thermostat. No bells or whistles, although it comes with most of the features you'd expect, and it's reliable.
Flexible scheduling, remote access (through the app), and geofencing allow customers to save about 23% on HVAC energy usage if you continuously adjust the temperature in a mindful manner. In other words, don't leave the heat blasting when you're about to leave your home for a few hours. To keep yourself honest, you can monitor current day and historical heating, cooling, and fan runtimes right in the app, and depending on the results either give yourself a pat on the back or find a place in the corner to sulk.
Now let's touch on some of the ST75 Sensi Touch's other smart features. First off, it works with all the big players in the smart home platform scene, including Amazon Alexa, Google Assistant, Apple HomeKit, and Samsung SmartThings. This smart thermostat is also embedded with smart alerts, which can detect extreme temperature and humidity levels in your home to prevent it from turning into a steamy sauna or frigid freezer. And you can bring the temperature back to norm on the fly from your smartphone or tablet using the Sensi mobile app for Android and iOS devices.
The Sensi Touch Smart Thermostat ST75 checks all the boxes a smart thermostat should. It includes a rebate finder where you can locate utility rebates in your area...yet another way to save!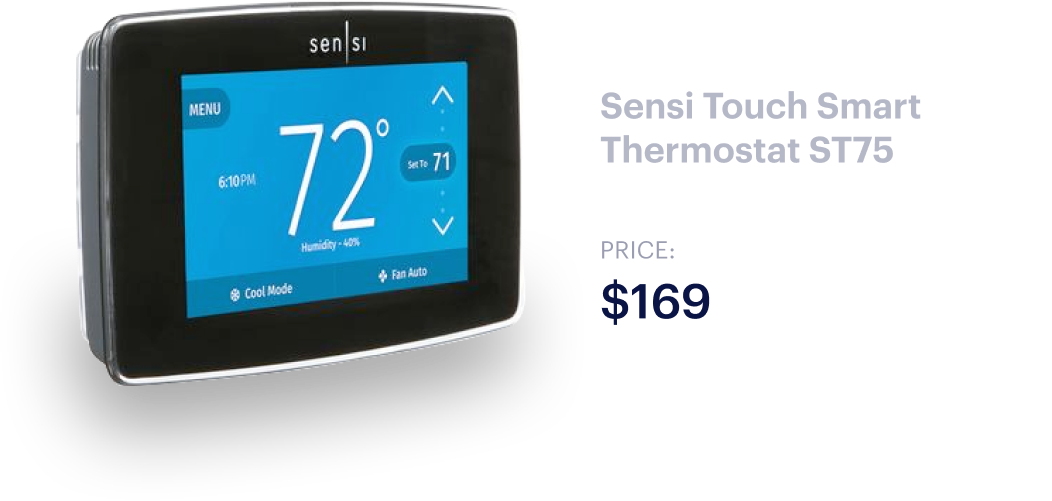 Varying Degrees of Form and Function
You've probably noticed that all of these smart thermostats have their pros and cons. On the form to function spectrum some slide a little more to the left and others more to the right. The one that's right for you and your household depends solely on your preferences—what you value in a smart thermostat as well as your price point. The only way you can go wrong is by rolling the dice with your old manual thermostat in the dead of winter.
Interested in smart thermostats for your multifamily community? Episense provides developers, owners and operators with smart home solutions and tech-driven amenities that enhance the resident experience and unlock asset value. Schedule a demo today to learn more.
William Hogan
Creative Director